Can You Take Photos and Videos at an Airport?
Capturing the magical and mundane aspects of air travel looks easy with cameras and recording devices that can fit in your pocket, and it often is. Airport photography is part of the broader category of street photography where anything and anyone could be your subject. But you have to be careful not to cross certain invisible lines, or your little artistic adventure could easily end up a nightmare.
Broadly speaking, you can take photos and videos at an airport, but subject to the limitations imposed by various authorities. As long as your presence in the airport, or any place therein, is legal, and you comply with the local laws, including the policies and rules of the authorities that own or manage the airport facilities, you are allowed to exercise your freedom of expression using your camera.
Worried you may do something illegal? Here?s what you can and cannot do
Taking photos and videos of scenes and subjects visible from public spaces such as airports is legal as long as those images are in plain view.
In the United States, the right to take photos and videos in public property is protected by the First Amendment, as photos and videos fall under "expressive speech." This right, however, may be restricted for security, privacy, or logistical reasons.
Some airports allow photography activities only if escorted by airport personnel and/or after paying photography/videography fees. Violating an airport?s photography policy could result in erasure of images and even confiscation of equipment used for filming/photography.
Capturing audio, however, is another thing. With phones nowadays that come with video/audio recording capability, there?s no need to set up obtrusive equipment to document encounters or events. With a click of a button, incidents that would not have been otherwise recorded get uploaded to the internet for everyone to see.
Depending on which state the airport is located, video and audio capture may not be allowed simultaneously. Some states prohibit the recording of audio without the express consent of all parties to the conversation, more so if the parties involved are the local police.
Audio recording of private conversations in public may constitute a violation of a state?s wiretap laws, as in Pennsylvania?s. Unless that person is making a speech in public, always assume that recording audio of anyone without their consent is illegal.
Even if a state has no wiretap law, it may have laws requiring that all parties consent to the audio recording for it to be legal.
The American Civil Liberties Union states that certain states allow audio/video recording of law enforcement officers in the course of performing official duties in public (for example, patting down a passenger going through a checkpoint).
When it comes to police officers, some states however, have made it illegal to record on duty police officers even if the recording takes place in a public environment where privacy does not exist.
What about photographing, videotaping or audio recording at TSA checkpoints?
Such laws are not clear as to whether they apply to screeners or agents of the Transportation Security Administration or airport security personnel. The TSA or the airport may allow such recording activities, but state statutes and/or local laws may forbid them.
State restrictions may also extend to photographing and videotaping TSA screening locations or checkpoints. While TSA itself allows the public to take pictures and videos at their checkpoints as long as such action does not interfere with the screening process or slow things down for all others, local laws and ordinances might not.
What TSA does not allow is the photographing or videotaping of their monitors. If you do start taking out your camera and point them at sensitive subjects, i.e. TSA screeners, fellow passengers waiting in line, baggage, concerned parties have a right to inquire about what you?re doing.
Can I take photos or videos while boarding?
Similar activities in areas controlled by airlines may be prohibited without the consent of the airline. These include check in or gate areas, airline equipment, and even their processes and personnel.
Unless you are documenting only personal events, you may not be allowed to take photos of airline property without their approval. This could mean pointing the camera at the row of seats in the waiting area, the check in counters, the boarding gates, may invite a verbal warning from the airline employee.
What areas should I avoid, and who should not be in the photos?
Don?t take pictures in areas where there are visible signs that prohibit you to do so. These are usually in areas where your presence is deemed by the airport authority as hazardous to your or other people?s safety, impedes operations, or causes potential threat to security.
Such areas include runways, taxiways, TSA checkpoints, loading docks, and border control, among others. Check-in and gate areas may also be off limits to photography, unless given permission by the airline.
Some airports also don?t allow passengers to take pictures of their garages without consent from management and appropriate escort.
The authorities are well within their rights to ask you to stop taking photos/videos in these prohibited areas. When in doubt, find out about the airport?s policy on photography on their website or ask for permission from the management.
Be cautious when taking photos of people in private grounds, even if they are in plain view.
Taking photos/videos from a public space of an image situated in a private property but in plain view is generally allowed. In the case of personnel, procedures and equipment controlled by the TSA, the airlines, vendors and airport partners, taking photos is not, unless they grant you permission to do so.
A passenger photographing another passenger or a check-in agent of the airline he or she is flying with may result in being ordered off the plane.
A passenger photographing an airline?s employee, but flying with a different airline might get away with it, as the latter couldn?t impose their policies on another airline?s passengers.
Law enforcement officers in airports can only be documented in public areas in plain view while doing their public duties. There are some states, however, that prohibit documenting law enforcement activities even if such activities are in line with discharging their public duties.
If asked to delete your photos/videos, you need not comply, unless the law enforcer has a warrant to look through your camera or cell phone.
But if the officer asks for your camera or tells you to stop taking pictures or videos, it?s best to concede than risk inviting a charge for ?resisting arrest,? or worse, getting arrested altogether.
I want to take the best photos and videos inside the airport. Where should I go?
With their reputation as gateways from A to B, airports generally aren?t known for their aesthetics. But newer ones have been able to combine design and function to offer passengers a great travel experience that pleasantly bookends their vacations.
For your travel mementos, nothing can be more rewarding than capturing moments of uplifting arrivals or dramatic departures with the flight board in the background, or while riding the moving walkways with gorgeous art installations by the side.
So where else are the most visually appealing spots inside the airport to take photos and videos?
Arrivals hall
Nothing gives you a sense of arrival more than a warm welcome, either with a cultural presentation, hypnotic art installations, or tropical landscaping evocative of your destination like Singapore?s Changi International Airport?s leafy arrivals hall.
Concourse
Some airport terminals are designed with utility foremost so going through them is often a journey to endure and not to enjoy.
Concourses of newer airports, however, have become architectural wonders that beg slow travel, and no longer walkways of bland design that provide little diversion for the passenger in a hurry.
Walk under the vaulted concourse of Bangkok?s Suvarnabhumi Airport, under the undulating skylit roof of Barajas-Madrid Airport?s Terminal 4, or through Chicago?s O?Hare International Airport?s neon-lit tunnel, and you may just linger and miss your flight.
Gate waiting area
There?s a reason why huge glass windows ? ideally framing a natural feature in the horizon like a mountain, floating clouds, sunrise or sunset ? are a feature of the waiting area.
Views of takeoffs and landings provide entertainment and opportunities for the camera-wielding traveler to capture air traffic and ground movements, as well as the flow of passengers boarding and deplaning.
Passenger lounge
While business class passengers endure the same amount of time waiting for their planes to arrive, they do so in more comfortable environs. The often luxurious setting makes an envy-inducing holiday snap.
Viewing galleries/observation decks
Large airports often have dedicated spaces to view activities airside, and therefore the perfect place to capture action shots. Depending on where the decks overlook, you may be able to document ground vehicles servicing an aircraft, planes lining up in interesting formations, or a departing plane silhouetted against the sunset.
Upper Floors
Looking into the floor below not only helps you get your bearings around the terminal but also gives you artistic perspective. Choose a spot with unobstructed views to capture architectural details, crowds, or a sense of scale.
Indoor parks/activities area
In most airports, there?s little to do between the time you check in and the time you board except sit idly by and watch takeoffs and landings. So it?s something to celebrate if an airport offers more than free Wi-Fi or advertisement-free programming on a big screen.
Changi Airport has all that and then some. Their latest addition is the 130-foot tall Rain Vortex, an indoor waterfall surrounded by four stories of lush foliage.
Departures terminal
A visual treat of a departures terminal can highlight the end of your journey, or at least make up for a lousy trip.
You won?t board your flight as grumpy if you?ve been treated to an eyeful of architectural beauty, like that of Marrakech Menara Airport?s contemporary Islamic architecture that casts fascinating geometric shadows on the floor.
If you?re into people-watching, the departures terminal provides endless material for capturing human drama.
I want to get the best views from outside. Where do I go?
It depends. Your shooting platform outside the airport rests on whether you want to capture takeoffs and landings, the flow of traffic and passengers in and out of the airport, a bird?s eye view of airside action, architectural details of the airport fa?ade, or interesting angles of the airport building.
When planespotting, you might want to have a complete view of the runways. This may require you to find an elevated position not easily accessible to the public without special permission, or an elevated position from nearby establishments that are open to the public such as hotels, restaurants and caf?s.
If runways need not be in the frame, then any open space with a view towards the airport and where your safety is not at risk, or where you are not getting in the way of traffic, is good enough for taking photos and videos. This could be a park, an abandoned road, a beach or the parking lot of a shopping mall.
Wherever that place may be, the general rule of thumb is the sun should always be behind you.
Is it okay to take candid shots? Etiquette to observe in airport photography
When in Rome, do as Romans do. Depending on local customs, it may be fine or outright rude to take photos or videos of people even when they are in a public place.
Even in places with busy airports where strangers mind their own business, ?shooting from the hip?, while perfect for capturing natural shots of people in their habitat, has a surreptitious element to it.
Observe what people around you do. If they are snapping away without anyone minding, you can probably get that candid shot and not have anyone look at you suspiciously.
Even in that atmosphere, however, it?s bad form to invade personal space without letting your subject know they are front and center in the frame.
While there?s tacit understanding that anyone can be photographed while out in public, taking someone?s picture without their consent makes for an unpleasant encounter, unless they are a celebrity or a public figure (and even they complain when photographers are too intrusive).
Especially if you are planning to upload pictures to a photo sharing platform or use them for commercial purposes, it would best serve you to ask for permission. When photos or videos are taken for profit, you may need to have a model release signed by the individual personally identifiable in your photos.
Some airport personalities, however, may altogether be off-limits depending on state statutes, local laws/ordinances, and airport/airline policies. Some examples include TSA screeners, border control agents, airline employees (whether in check-in areas, boarding gates and in-flight), and law enforcement officers.
It is better to exercise caution than invite a potentially contentious encounter with the authorities.
Where do I find photography rules of individual airports?
A quick lookup on search engines easily returns an airport?s official website where they outline what is allowed or not allowed in relation to photography in their grounds.
In the United States, some airports are under the management of their state?s Port Authority, as in Boston Logan International Airport, so the rules may be found in the port authority?s websites, media kits, and public education materials.
Always read the fine print. And when in doubt, don?t hesitate to ask the right people. Better to look or sound unsure to ensure that your trip is as smooth as a turbulence-free flight.
More from AirportNerd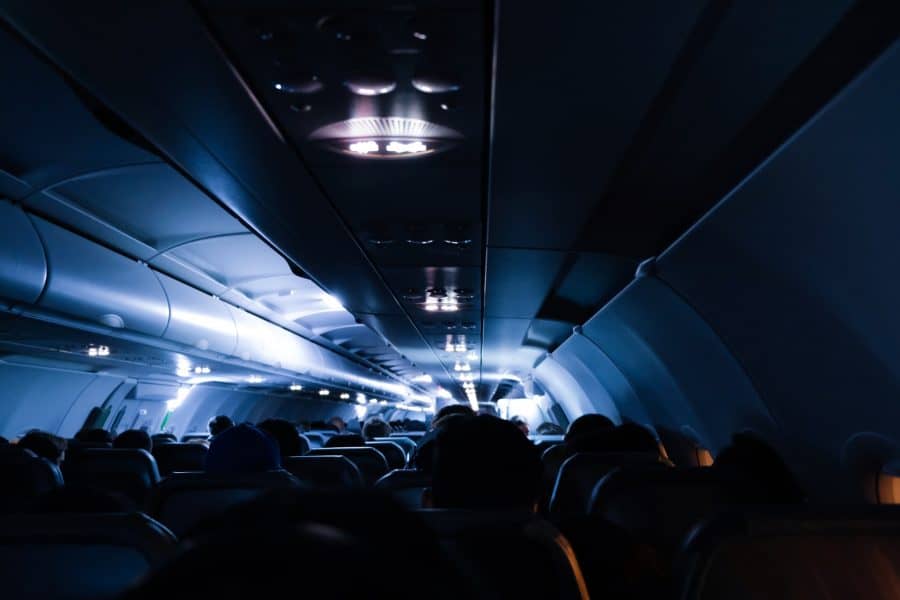 Picture this. You are sitting in the most undesired seat on the airplane, the middle…